Fill in your delivery details to check available shipping options and calculate rates for this product

Suits up to 10 chickens

Measures 2.3m long, 1.6m wide and 2.2m high (1.66m door height)

Made from strong, yet light-weight, aluminium framework (silver, standard)

2.5mm thick galvanised mesh with 25mm squares (smaller mesh available)

Made standard with 3 solid walls and full solid roof using mini corrugated iron in a choice of Colorbond colours

2 wooden perches included

Wooden laying boxes available as an upgrade

Takes between 3-4 hours to assemble, with detailed illustrated instructions provided
---
ALUMINIUM FRAMEWORK
Unlike steel or timber, aluminium will not rust or deteriorate in the weather. Purchase with the knowledge that your Royal Rooster chicken coop will look just as great in many years' time. Royal Rooster has specially designed it's own style aluminium that features channels in which the mesh or iron slots directly so that there are no ugly fixings on either side of the panels to keep the materials in place.
Black Frame Optional Upgrade: Chicken coops are made standard with silver anodized aluminium framework. However black frame (black anodized) is also available as an optional upgrade. This can be partnered with Colorbond iron such as Monument as shown above.
---
SMALL-SIZED GALVANIZED MESH
Chicken Palaces are made using small sized galvanised steel mesh which is 2.5mm thick with 25mm x 25mm squares. This mesh is very difficult to accidentally damage and is impossible for foxes to manage to chew through!
Mini Mesh Optional Upgrade: All coops are made standard with 25mm x 25mm x 2.5mm mesh but smaller rodent/ snake mesh is also available as an optional upgrade. This is 12.5mm x 12.5mm mesh with a wire thickness of 1.24mm.
---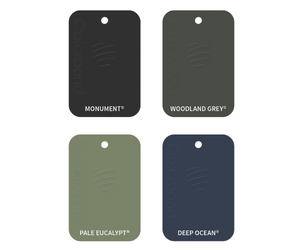 MINI FLUTED CORRUGATED IRON
The roof, side and back walls of the Chicken Palace is clad in Zincalume (silver) mini corrugated iron. This is Bluescope steel made in Australia not cheaper imported materials.
Colorbond Optional Upgrade: The Chicken Palace is also available in Colorbond for those wishing their coop to match the colours of their backyard. Colorbond colours available are Deep Ocean, Monument, Woodland Grey and Pale Eucalypt. Custom Colorbond colours are also available for those needing specific colours to match a fence or shed.
---
SUMMER VENTILATION
As Royal Rooster is an Australia owned and operated business, all coops are designed taking into consideraton our very hot summers. The whole front of the housing section on the Chicken Palace is open to allow maximum ventilation on hot days.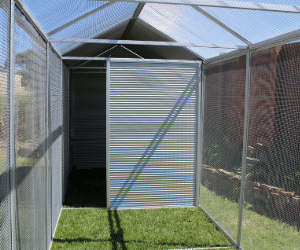 Weather Shield Optional Upgrade: There is an optional 'weather shield' (as pictured) that can also be purchased to provide extra protection for your hens in wet or windy weather. This shield encloses the housing section with still a gap to walk through to collect the eggs and for your chickens to enter the housing area.
---
SOLID ROOF
The entire roof of the Chicken Palace is made of mini corrugated iron, providing shade from the sun and protection from rain and wind in the cooler months. The colour of the roof generally matches the side walls and weather shield but if you wish to have these in different colours, just choose custom Colorbond and we can arrange that for you.
---
OPEN FLOOR DESIGN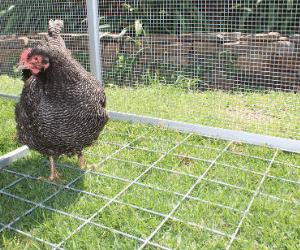 The chicken coops have an open floor design to allow your chickens to scratch up the soil and to have the pleasure of a dust bath when needed.
Fox Proof Floor Optional Upgrade: Optional 'fox proof floors' can also be purchased for those needing extra protection from these predators. The large sized mesh floor (with 150mm x 100mm rectangles) still enables your chickens to scratch the soil and at the same time gives you peace of mind about their safety overnight. Extra soil or straw can be added on top of the mesh floor to make the area more 'earthy' and natural for the chickens.
---
FIXED POSITION COOP
The Chicken Palace style coops, unlike the rest of the Royal Rooster range, are not designed to be moved around your yard. If you need a mobile coop, please see the other coops available.
---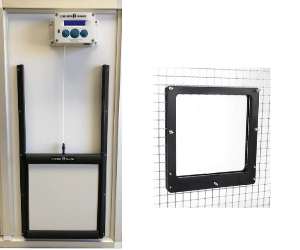 ACCESS DOORS
The Chicken Palace has a large door at the front of the coop allowing easy entry into the coop. This door is 1.66m high. If you need your door positioned differently to the pictures, please enquire as this can be done for a modification fee.
Manual Chicken Door Optional Upgrade: If you would like your chickens to be able to free range, you can chose from 2 styles of chicken doors depending on your budget. The manual chicken door comes with a clear slide up door with a hook so can be latched to the mesh to stay open. This can be fitted to any mesh area on your coop.
Auto Chicken Door Optional Upgrade: If you are wanting an automatic chicken door opener, Royal Rooster also stock Chicken Guard Premium auto doors and openers that can open automatically for you in the mornings and nights. These come with a specially made panel so this can be fitted to your Royal Rooster coop, as shown above.
---
WOODEN LAYING BOXES (optional)

Chickens need a nice cosy place to lay their eggs. A flock of around 6 chickens will all share the one laying box, each taking it in turn to lay their eggs. For most owners of backyard chickens, 1-2 nest boxes are adequate.
External Nest Box Optional Upgrade: A popular coop upgrade is the external nest box allows you to collect your eggs from outside your coop. It also gives your chickens even more room for perching inside their housing section with the wooden nest boxes tucked away in this special nest box enclosure. These can be made to fit the left hand or right hand side of the coop or both with one on each side! This enclosure holds two wooden nest boxes which will be supplied if ordering this upgrade.
Wooden Laying Boxes Optional Upgrade: If you are not requiring the external nest box, then the wooden laying boxes can still be ordered individually.
---
WOODEN PERCHES
Two wooden perches are provided for night time sleeping area for the chickens. These perches are 42mm wide and 19mm thick, which is said to be the best size and shape for chickens to comfortably perch on for night time sleep.
---
CHICKEN FEEDERS & DRINKERS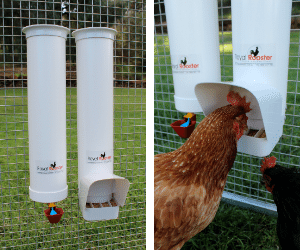 A popular upgrade to the Chicken Palace is a feeder and drinker set. These hook straight onto the mesh of your coop and make keeping chickens a breeze. Available with either a single drinker cup or twin cups. The cups are auto replenishing and ensure a clean water supply for your chickens. The feeder also includes a rain cover to protect your feed from the elements.
If you order your coop in the smaller mini mesh, we'll include a special pack of brackets and zip ties to enable your set to fit to the smaller mesh walls of your coop.
---
ANCHOR KIT (optional)
If you're concerned about your coop in strong winds, you can now order a 4 pack anchor kit to secure your coop to concrete.
---
DELIVERY INSURANCE (optional)
This covers the replacement or repair of your coop if damaged in transit as well as the freight to transport damaged parts back to us and new parts over to you. Only $15 for peace of mind and highly recommended.
---
ASSEMBLY REQUIREMENTS
These coops are straight forward to put together and come with detailed, illustrated instructions. You'll need a rubber mallet, an electric drill and a number 2 Philips-head driver. Assembly time should be between 3-4 hours depending on skill level. A pair of pointy nose pliers is also handy if your order your coop with mini mesh walls.
---
LEAD TIME & FREIGHT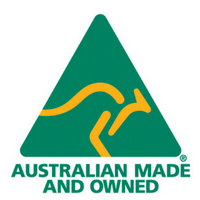 All coops are made in our purpose built premises in Willaston in South Australia. Lead times on orders can vary depending on the time of the year and other factors out of our control. Please click here to see that latest lead time on orders.
Delivery with TNT generally then takes between 1-2 weeks to arrive. We have both depot pick up and residential delivery as freight options to keep the cost down for those able to collect from a TNT depot or agent.
If you live in SA, pickup from our premises at 43 Theen Ave, Willaston SA 5118 is most welcome.
---
Not what you're after? See the whole range of products on offer from Royal Rooster or contact us if you have further questions. We'd love to help!
More Information

| | |
| --- | --- |
| Mini Description | The 'Chicken Palace' is one of Royal Rooster's most popular style of walk in chicken coop. |