Fill in your delivery details to check available shipping options and calculate rates for this product

Measures 2.3m long, 1.6m wide and 2.2m high (1.66m door height)
Made from strong, yet light-weight, aluminium frame (silver, standard)
Strong 2.5mm thick galvanised mesh with 25mm squares (smaller 'mini mesh' available)
Made standard with a full solid roof and three solid walls using zincalume, galvanised mini corrugated iron. A choice of Colorbond colours available on upgrade.
Takes between 4-5 hours to assemble, with detailed illustrated instructions provided
---
ALUMINIUM FRAME
Unlike steel or timber, bunny enclosures made with aluminium frames will not rust, rot nor deteriorate in the weather. Your Royal Rooster bunny enclosure will look just as great in many years' time due to the durable materials that are used in its construction. Royal Rooster's specially designed aluminium is made with u-shaped channels in which the mesh or mini-fluted iron slots in directly. This means that there are no ugly fixings on either side of the panels to keep the materials in place. No welds or sharp edges on the mesh to be concerned about.
Black Frame Optional Upgrade: The cages as standard are made with silver (clear anodised) aluminium framework, however black anodised frame is also available as an optional upgrade.
---
GALVANISED MESH
The sides of the Rabbit Palace are enclosed with galvanised steel mesh. As standard these bunny enclosures are made with 25mm x 25mm mesh with wire thickness of 2.5mm.
Galvanised Mini Mesh Optional Upgrade: If snakes are a concern where you live, then 12.5mm x 12.5mm squares and has wire thickness of 1.24mm may be needed.
---
POWER COATED MESH
For those wanting a black finish to their mesh, your choice of mesh size and finish can also be powder coated in a black finish.
---
MINI CORRUGATED IRON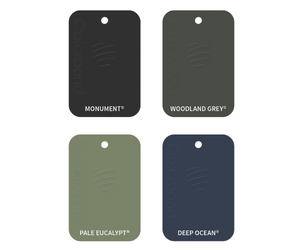 The side walls, back wall and part roof of the Rabbit Palace is clad with Zincalume (silver) mini corrugated iron. This is Bluescope steel made in Australia and is not cheaper imported materials.
Colorbond Optional Upgrade: The Rabbit Palace is also available in a choice of 4 Colorbond colours. These colours can also look great with the black frame upgrade. These colours include Woodland Grey, Pale Eucalypt, Deep Ocean and Monument with custom Colorbond colours also available upon request.
---
SKIRTING/ KICKBOARD
These bunny enclosures can also have a 30cm skirting/ kick-board incorporated around the entire perimeter of the cage. This can provide extra protection for your rabbits when they are on the ground from visiting animals. Also helps to keep out rodents.
---
INSULATED ROOF OR WALLS
These bunny enclosures are also available with an insulated roof and/ or insulated walls. This is done by using 7mm silver backed insulation that is sandwiched between the mini fluted iron walls on the outside and aluminium composite panel on the side and underside of the enclosure.
---
FULL IRON ROOF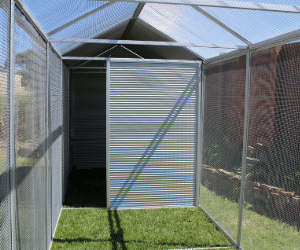 The full roof of the Rabbit Palace is clad with mini corrugated iron, providing shade from the sun and shelter from rain in the wet months.
Weather Shield Optional Upgrade:
The Rabbit Palaces are made standard with three solid walls at the rear of the enclosure and 2.3m of solid roof. For those wanting extra protection for their rabbits in the cold or wet weather, an optional 'Weather Shield' can be purchased (as pictured).
---
OPEN FLOOR DESIGN
These bunny enclosures do not have a floor as standard. You may choose to put your enclosure on pavers or concrete or even incorporate into your garden beds with plants for added interest and shade for your rabbits.
Anti-Dig Mesh Floor Optional Upgrade: Optional 'anti-dig floors' can also be purchased for those concerned about their rabbits burrowing their way out of their hutch or concerned about dogs and foxes digging their way in. These floors are sections of 50m x 50mm mesh (3mm wire thickness).
---
ACCESS DOOR
The Palace style of enclosure has a large door at the front allowing easy entry into the enclosure. This door is 1.66m high.
---
HOOK ON BOWLS
Royal Rooster has stainless steel hook on bowls available in three sizes: 280ml, 560ml and 1.36L. These hook straight on to the mesh of your enclosure for food or water.
---
CAGE ANCHOR KITS
If you're putting your enclosure on concrete, it's a good idea to anchor down if strong winds are a concern in your location.
---
DELIVERY INSURANCE
This covers the replacement or repair of your bunny enclosure if damaged in transit with TNT as well as the freight to transport damaged parts back to us and new parts back over to you. Only $15 for peace of mind. Highly recommended.
---
ASSEMBLY REQUIREMENTS
These cages are straightforward to put together and come with detailed, illustrated instructions. You'll need a rubber mallet, an electric drill and a number 2 Philips-head driver. Assembly time should be between 4-5 hours depending on skill level. If you order a cage with mini mesh walls, a pair of pointy nose pliers is also handy.
---
LEAD TIME & FREIGHT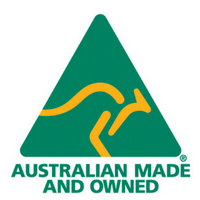 All bunny enclosures are made in our purpose built premises on Theen Ave, Willaston in South Australia. Lead times on orders can vary depending on the time of the year and other factors out of our control. Please click here to see that latest lead time on orders.
TNT generally takes between 1-2 weeks to deliver items once picked up from us. Picking up from a TNT depot rather than having your cage delivered to your home can save quite a lot in delivery costs. So that is also an option when you go to check out.
If you live in SA you're most welcome to pick up your order from our premises at 43 Theen Ave Willaston.
---
Not what you're after? See the whole range of products on offer from Royal Rooster or contact us if you have further questions. We'd love to help!
More Information

| | |
| --- | --- |
| Mini Description | Great sized rabbit enclosure with peaked roof, 2.3m long, 1.6m wide |